Welcome
The conference starts with the registration of participants on Monday, September 3rd, 2007 at 9:00 AM in front of the auditorium room, Aula B in Collegium Mathematicum in the campus Morasko of Adam Mickiewicz University. The conference ends on Friday, September 7th, 2007 after lunch.
Main topics
L-functions and Iwasawa theory,
p-adic Galois representations, modular varieties and abelian varieties,
algebraic cycles and K-theory.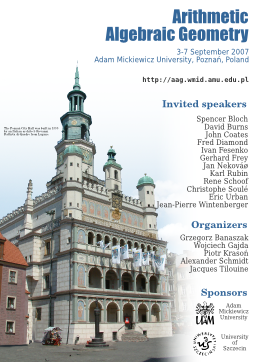 Invited speakers
Spencer Bloch
David Burns
Fred Diamond
Ivan Fesenko
Gerhard Frey
Jan Nekovář
Karl Rubin
Rene Schoof
Christophe Soulé
Eric Urban
Jean-Pierre Wintenberger
Organizers
Sponsors